Purchase Managing Your Membership Community at Wisvalus! You'll get lifetime access. The BEST quality and the MOST considerate service. (No Ads - No Shipping - No Captcha)...Please check your SPAM MAILBOX if you do not receive our email.
Course "Managing Your Membership Community" is available, If no download link, Please wait 24 hours. We will process and send the link directly to your email.
YourMembership membership management software
All-in-one membership management solution connecting your organization, website and events.
Dynamic membership solutions to increase member engagement and staff efficiency.
From membership management and custom-designed websites to event registration and an online member community, YM association management software is perfect to personalize the member journey for smaller professional and trade associations.
Increase staff efficiency with streamlined operations.
Manage all your operations in a single platform. Use an intuitive interface and simple workflows to simplify and streamline day-to-day operations.
Create and deliver lifetime member value.
Foster member loyalty with continuous opportunities to network, learn and share. Instantly build your members' connections and deliver relevant content through a unified community.
Align technology to make data-driven decisions.
Gain quick insights on the health of your organization with easy-to-use, configurable dashboards. Segment data by member type to get a complete view of your membership portfolio.
Your success is our drive.
When you are happy, we are happy. Our team is driven to give you and your members a world-class experience through a lasting partnership.
When you join the YM family, you are supported by a team of professionals with more than a combined 3,800 years of membership expertise. We provide you hands-on platform training, a dedicated in-house implementation manager, an on-demand knowledge base, and a YM community where you can connect and network with other membership professionals who are also using the YM AMS solution.
Cloud-based solution to simplify your organizations operations and improve member engagement.
Membership Management
Recruit, renew and manage members with an easy member sign-up path and auto renewal.
Event Management
Grow your events with easy online registration and promotion. Wow your attendees with a mobile experience and gamification tools.
Website Design and Hosting
Connect members with a modern design and user-friendly website that looks amazing on every device.
Membership Marketing
Drive membership growth, engagement and retention with easy, automated email tools.
Social Community
Convert sporadic engagement into stronger member connections by making your association a part of daily member social networking habits.
Accounting and Payment Processing
Accept payments securely and conveniently. Integrate your membership data directly with your accounting software, such as QuickBooks Online.
Dashboards and Advanced Reporting
Gain quick and in-depth insight into membership trends, event registrations, email effectiveness and payment data.
eCommerce and Fund Management
Accept recurring payments for subscriptions and membership renewals. Increase your revenue channels with an online store or donations.
Leading technology built for associations.
We keep a keen eye on the evolution of technology and how it impacts your member experiences and your member database, so you don't have to. With an integrated cloud-based solution, you don't have to worry about managing software, servers or data sources.
Scheduled updates keep you on the latest version at no additional cost. You stay up-to-date with the latest features, which benefit your members.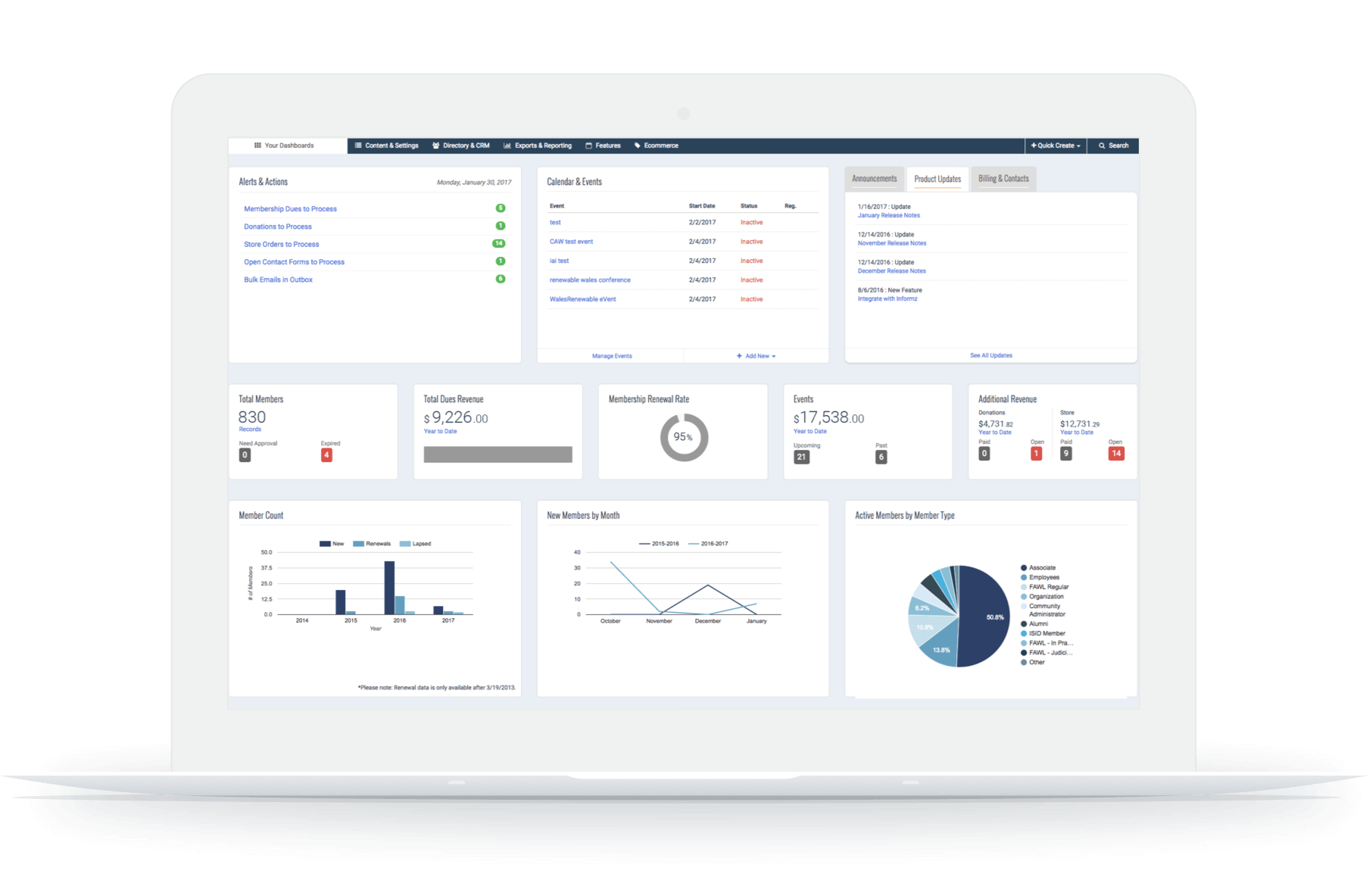 ---
Tag: Managing Your Membership Community Review. Managing Your Membership Community download. Managing Your Membership Community discount.